APPA sat down with David Hulett (pictured), Director of Queensland-based distributor Promo Gear to find out a bit more about his business, background, and thoughts on being a member of APPA.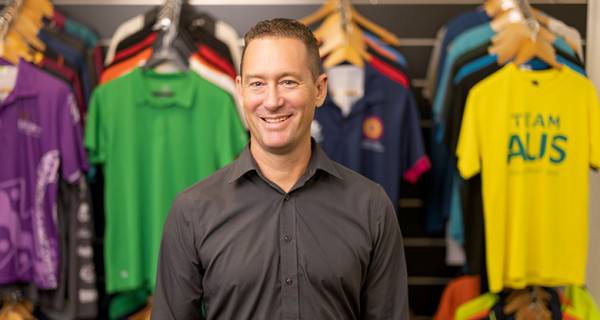 APPA: Tell us a bit about Promo Gear- what do you do and what is your history?
David Hulett: Promo Gear are branded product specialists with a highly experienced team catering to large corporations and government departments. Due to my heritage- with my father being a proud Jagera man- Promo Gear is a Certified Indigenous Business (with Supply Nation), a member of the South East Queensland Indigenous Chamber of Commerce and listed on the Black Business Finder QLD.
We pride ourselves on being product specialists and thinking outside the box when customizing solutions for our clients. Promo Gear, as a company, have been providing branded merchandise and uniforms since 1976. Personally, I have been in the industry for approximately 25 years at a small number of different promotional product companies, finding my home at Promo Gear in 2012. I took on part ownership with a business partner in 2015 before acquiring full ownership in 2018.
A: How long have you been an APPA member? What is the best benefit of being a member?
DH: Promo Gear have been an APPA member for as long as I have owned the business (probably longer!) I have only ever worked for promotional product companies who are APPA members. The best benefit of being an APPA member is the support we receive from our governing body, such as dispute resolution, industry statistics, training options and the Roadshow and Expo held every year!
A: What would be your most memorable promotional campaign or project completed for a client?
DH: We were proud and honoured to be a licensee and supplier for the Gold Coast 2018 Commonwealth Games, working with GOLDOC, the master licensee, affiliated departments and various sponsors involved. More recently, the 2021 Census Merchandise campaign was certainly a highlight and earned us a finalist place at the 2022 APPA Awards (for Distributor/Supplier Collaboration), underpinning our core values including amazing relationships with our suppliers.
A: What are the biggest challenges facing your business at the moment?
DH: Balancing constant rapid growth without lowering our service levels along with complex supply limitations in an ever-changing world.
A: What's next for Promo Gear?
DH: We are moving to a larger purpose-built facility towards the end of the year to accommodate the growth we have experienced both with clients and staff numbers, along with getting our own van and delivery driver out on the road to better service our local clients. We also have updates coming for our websites and social media to help our online presence, again to better service our clients.
To learn more about Promo Gear, visit www.promogear.com.au.