Do you love to know what's going on in your industry?
Stay on top of current industry affairs by reading the Promotional Products Marketing Magazine, the quarterly magazine for the Australasian promotional products industry.
The Winter 2021 issue is out now and exclusively available to APPA members- click here to access the magazine portal and the latest issue.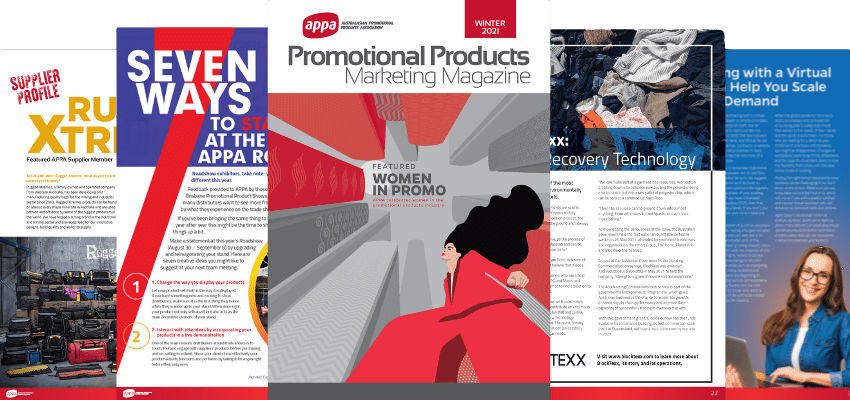 Featuring:
Women in Promo: Celebrating Female Leaders in the Industry
Why the Australasian Promotional Products Industry is Crying Out for Systemisation and Automation
APPA Members Give Back
Burgeoning Industries to Target in 2021
COVID-19 Vaccination: A Quick Guide for Employers in the Promotional Products Industry
BlockTexx: Textile Recovery Technology
How Hiring a Virtual Assistant Can Help You Scale Up and Meet Demand
Why Single Email Advertising Campaigns Don't Deliver
Thank you to everyone who contributed to this issue, and to APPA's Magazine Editorial Committee for all their assistance: Diana (TurnKey Promotions), Matt (Promotion Products), Aisling (Over The Top Promotions) and new member Paul (Promo Supply Network).
---
Please be mindful that access to the magazine is an exclusive benefit of APPA membership, and non-members will not be able to accesss the magazine portal.